Don't overcomplicate yourself if you want to optimize your website for search engines. The reality is you can improve your website's ranking and traffic by following a few simple steps.
If you have spent enough time reading about online marketing and how to get more clients online, you've probably heard of SEO and already have a good idea of what it is.
If you're still having a hard time getting the grasp of it you can check out: What is SEO?
Today, we're going to show you the steps you can take to optimize your website and get started with the right foot.
*This article takes about 5 minutes to read and consists of 4 key SEO tasks.
1. Avoid Doing It Wrong, Right From The Start
If you're having a new website done, make sure it's done right the first time, following the best practices at the very least. This will save you a ton of work and a lot of money.
This is what you need to avoid.
Attempting to "cheat" search engines will only hurt your website. This is what SEO specialists call black hat techniques.
Beware of buying backlinks
Paying someone to build you 50,000 backlinks for "instant results" will not get you more traffic. It will get you penalized by search engines.
And the logic behind it is really simple: Doesn't that sound like spam?
In fact, 1-10 good backlinks a month will do more than 100,000 times better than 100,000 bad backlinks from scam sites and adult sites.
Stuffing keywords together is also not a good practice.
Using a SaaS (Software as a Service) Company as an example, let's say you are trying to get traffic for what you do – Office Management Software.
Keywords stuffing can look like this "Online best office management software. Get the best office management software here by working with the best Alberta, Canada office management software company"
For construction companies:
"Improve your new york home with your new york home builders and remodelers"
Or this:
Still, you'd be surprised at how many people do this.
Keyword stuffing can get your site penalized, but most important, it will make people run away from you.
2. Performing a Website Audit – Content Audit and Technical Audit
Audits can be really complex and take long hours, but when you need to do SEO by yourself you can quickly find out the areas of improvement. To keep it simple, you can audit your website's performance and your website's content.
Technical Audit
The easiest way to see how your website is performing and how Google perceives it is to perform a lighthouse audit.
You can do this by either using Google Chrome, Edge Chromium or by using Google's online tool: PageSpeed Insights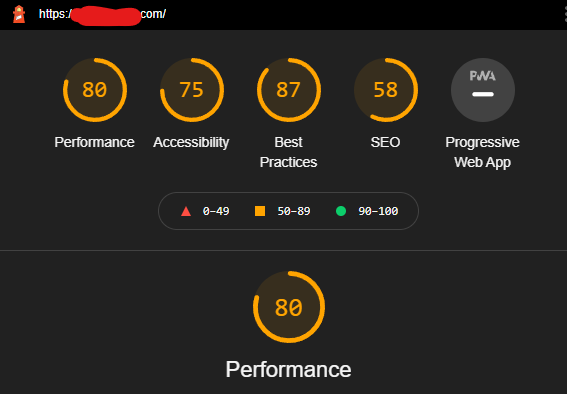 If everything is in red you should probably build a new website or hire someone to fix it.
That is of course, if you can't do it yourself.
Fixing some of these technical issues generally requires technical knowledge, but you can simply improve speed by using smaller-sized images and using fewer visual effects.
Content Audit
Now, a content audit can be really extensive.
Extensive to the point where you can even optimize the text of a button so more people will click on it.
Or a picture that seamlessly directs people to look at something you want them to look at.
But, you can also simplify the process by focusing on the key tasks.
Make sure everything is easy to understand and it's specific.
One of the worst mistakes in SEO, business, sales, and marketing is not being clear about things.
How can someone understand what you do if you act mysteriously about it?
This is also the part where keywords come into play.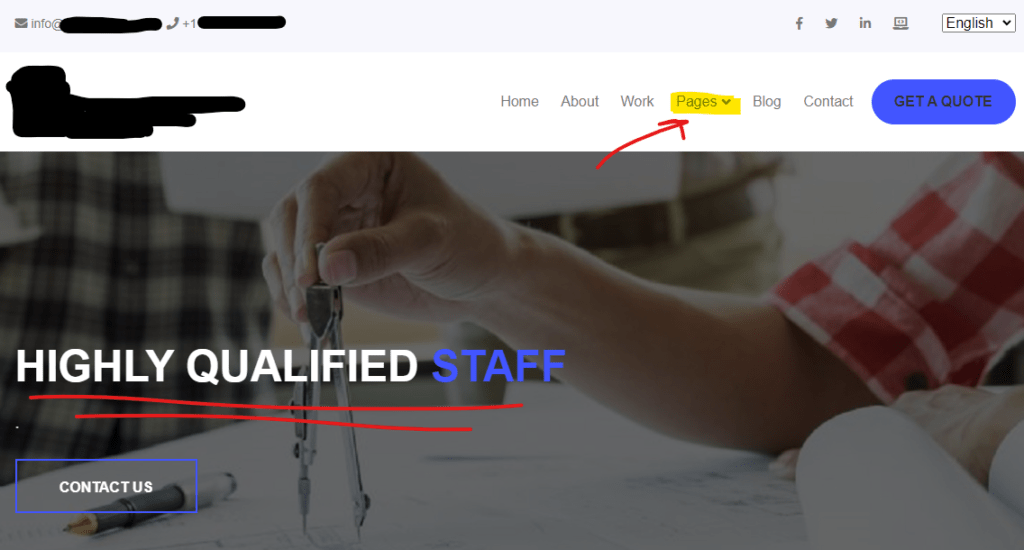 You don't visit a construction company website to see their pages. People are interested in your services not in your pages.
Same with search engines. How can Google, Bing, or Yahoo understand you are offering remodeling services if they don't see remodeling services?
If you offer a service tell what the service is and name the page after that service. If you sell a product, simply name it after the product.
That's a keyword and it's also useful for people.
3. Keyword Research and Keyword Optimization
Keep it simple – think of up to five keywords or phrases for each page on your website and optimize for those.
When it comes to keywords there are three things you have to optimize, Titles, Headings, and Text.
Titles are simply the name of the page or article at hand.
Titles are shown on the tab, on the URL, and on the page. They can vary a bit, but that's more advanced SEO.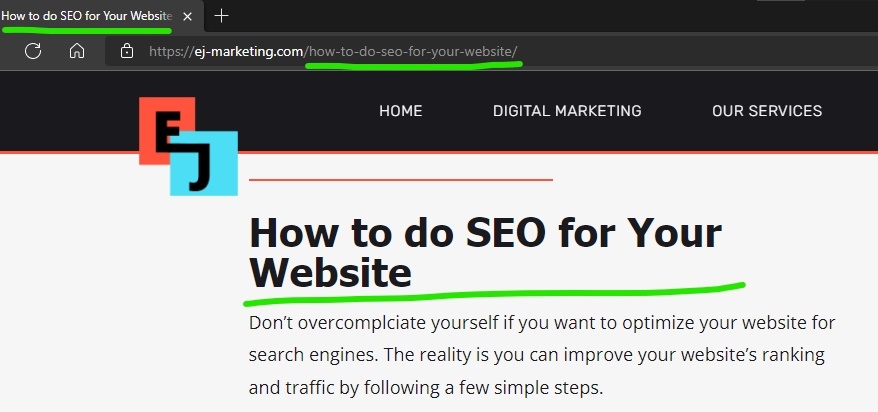 Headings are inside the page. These are not titles, but they explain what each section is about.
For example:
We Make It Easy vs We Make Office Management Easy
Which one do you think is going to work better?
Exactly.
Going back to the construction company example:
If you offer new construction, bathroom remodeling, and pool building services then those are exactly your primary keywords.
The bathroom remodeling page will be called just that, and you can support it with other keywords throughout the text.
"new bathroom", "bathroom deisng", "tile installation".
The same is true for SaaS companies, stock exchanges, financial services, lawyers, vets, doctors, and whatever industry you're in.
The point is to be clear about it, and use actual words or phrases people use to look for a solution.
There are countless keyword research tools out there, but unless you're into an advanced stage of optimization they're probably an unnecessary expense.
See How My Agency Can Help Your Business!
Combine the old-school marketing "secrets" with the power of precise analytics!
4. Optimizing Meta Data and Other Things
All we have done right now is called on-page optimization. On-page optimization is what you do on your site so it becomes more appealing to people and search engines deem it good enough to show.
Remember in this article, we're not focusing on more advanced techniques like JavaScript or CSS Optimization to keep it simple.
Metadata helps search engines understand your site.
Meta Descriptions
Definitely not a major ranking factor anymore. Google even shows different descriptions other than the one you write to users. but if you do a good job with this, not only engines will understand faster, and it might be shown more often to users.
Find and Fix Broken Links
Broken links (including 404 error codes) lead users to dead-ends and non-existent pages.
Multiple broken links negatively affect user experience and may worsen search engine rankings because crawlers may think that your website is poorly maintained or coded.
Make Sure You Have Robots.txt
The robots.txt file is used primarily to manage how search engines interact with your site. It tells search engine crawlers which pages or files the crawler can or can't request from your site and what to do with them
Create and Maintain Sitemaps
A sitemap is a file where you provide information about the pages, videos, and other files on your site. They are like the blueprints of your website and help Google understand and the relationships between every page and file.
Search engines read this file to read your site more intelligently.
Is This Starting To Feel A Bit Too Technical?
At this point, SEO can start becoming very technical and extremely detailed. Even smaller websites can be very complex and can be optimized in million different ways (and don't even get me started with online stores and e-commerce websites)
If you are way past this stage of optimization or if this is starting to get too technical for your taste, you should consider reaching out to an agency that offers SEO as part of its services.
Just make sure you're not staying behind!